FOR IMMEDIATE RELEASE
DATE: May 27, 2022


CONTACT:
Natasha Young, Public Information Officer
PH: 770-531-5679 • FAX: 770-535-5958
natasha.young@dph.ga.gov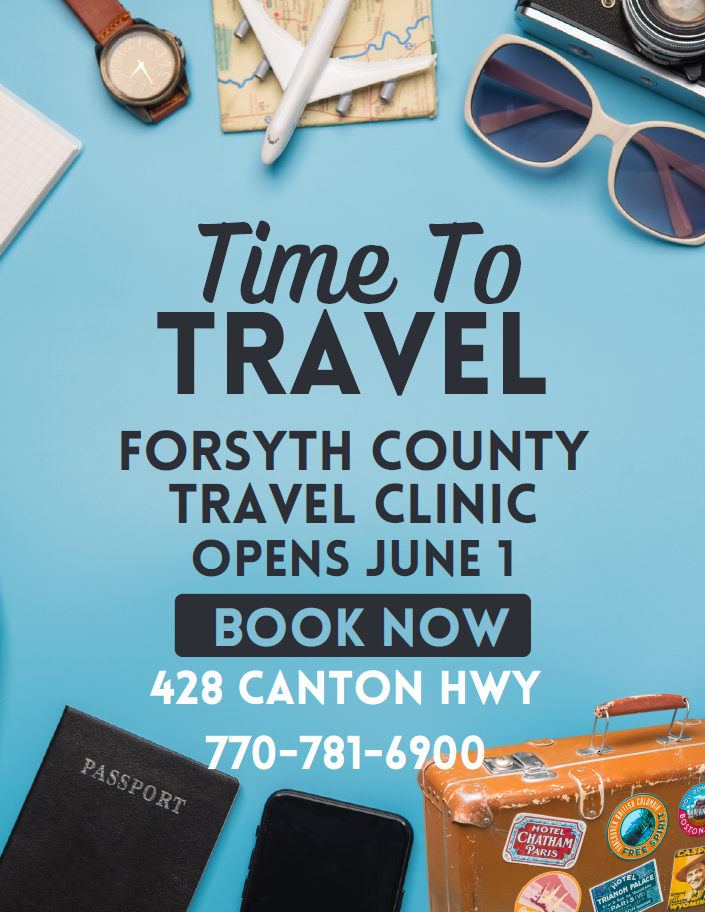 CUMMING – Travel season is fast approaching. This year is set to become a very busy travel season compared to the previous two years due to the COVID-19 pandemic. Forsyth County Health Department will open an international travel clinic to provide travel consultations, vaccinations, and medications starting June 1.
The travel nurse specialist will provide important health advice concerning your travel destination. During your visit, discuss your travel plan with your nurse to determine what destination–specific vaccines and medicines are needed. Nurses will go over routine, required and recommended vaccines as well as preventative medications during the consultation. You can receive your vaccines on the day of the consultation, a separate vaccination appointment is not required.
Plan your clinic visit early, six to eight weeks before you leave for your trip is recommended. Most insurances will not cover the cost of travel vaccines, contact your insurance company for its specific travel vaccine policy.
Travel smart while traveling abroad. Schedule your travel appointment by contacting the Forsyth County Health Department at 770-781-6900. Clinic hours are Monday, Wednesday and Thursday 8:00 am to 5:00 pm, Tuesday 8:00 am to 7:00 pm and Friday 8:00 am to 12:00 pm.
For more information regarding travel vaccines visit the CDC website to learn more.
#####