FOR IMMEDIATE RELEASE

DATE: June 27, 2022

CONTACT:
Natasha Young, Public Information Officer
PH: 770-531-5679 • FAX: 770-535-5958
natasha.young@dph.ga.gov
GAINESVILLE – COVID-19 vaccines are now authorized for everyone six months of age and older. Children will get a smaller dose of the vaccine than teens and adults based on their age on the day of vaccination. COVID-19 vaccines are safe and effective at preventing severe illness from COVID-19 and limiting the spread of the virus that causes it.
District 2 Public Health Medical Director, Zachary Taylor, MD., says, "Parents should discuss with their pediatrician or family doctor about vaccinating their child with the COVID-19 vaccine."
The Pfizer-BioNTech vaccine is now available at all District 2 health departments for children six months and older. The Moderna vaccine will be arriving soon. The Johnson & Johnson vaccine is not authorized for children.
The CDC recommends COVID-19 primary series vaccines for everyone who is six months and older, and COVID- 19 boosters for everyone five years and older, if eligible. You are protected best from COVID-19 when you stay up to date with the recommended vaccines. Vaccine recommendations vary depending on your age, type of vaccine received, and timing of your last dose.
Children five to eleven years old should get two doses of the Pfizer-BioNTech vaccine three to eight weeks apart, and should receive their booster dose five months after their primary series has been completed.
Children six months to four years old should receive three doses total. Once a child is vaccinated with their first dose, they should receive their second dose three to eight weeks later; however, the interval between the second dose and the third dose is eight weeks.
District 2 public health departments offer walk-in appointments for COVID-19 vaccines. Visit phdistrict2.org to find a health department location in your county.
To learn more about COVID-19 vaccines for adults and children go to cdc.gov/coronavirus.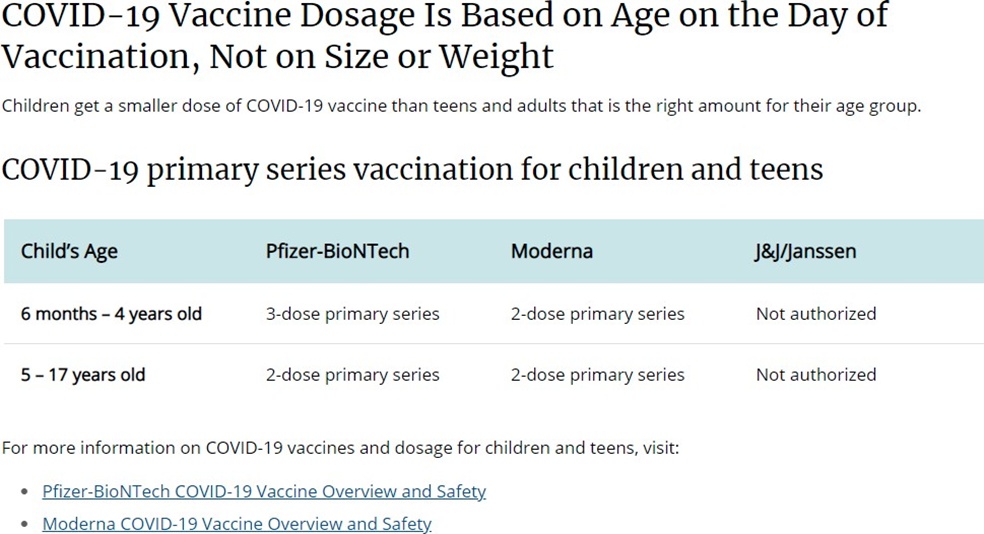 #####