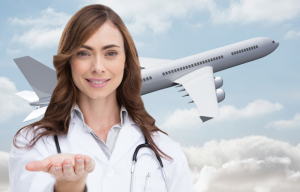 CDC Travel Update:  Yellow Fever Vaccine Alert, Measles in Europe, and Zika & Other News.
The Hall County International Travel clinic provides pre-travel consultation with the purpose to prepare international travelers for healthy travel experiences.  The clinic provides recommended and/or required immunizations and is a designated Yellow Fever Vaccination Center.  Medications may also be recommended and prescribed for prevention of malaria, altitude illness, and treatment of traveler's diarrhea.
Clients are encouraged to make an appointment for an evaluation of their needs based on their itinerary and planned activities.  Ideally, travelers should make an appointment 6 to 8 weeks prior to departure.
The clinic operates under the supervision of the District Public Health Director.
Payment is by cash, debit, Visa, MasterCard or Discover.
For more information about services, download the Hall County International Travel Clinic brochure, or contact the clinic at:
Hall County Health Department
International Travel Clinic
1290 Athens Street • Gainesville, Ga 30507
770-531-5600 extenstions 5657, or 5658
Also see: http://www.cdc.gov/travel/vaccinat.htm