This page contains COVID-19 information about testing, vaccinations, treatments, and statistics.
Covid-19 Testing Information
INCLEMENT WEATHER COVID TESTING SITE INFORMATION: Inclement weather can affect COVID testing site operations. Some testing sites may temporarily close due to weather events for the safety of our staff.
If you have waited more than 48 hours for COVID-19 test results from the testing sites at Habersham Medical Center or Stephens County Hospital, please call 919-504-9340 to obtain your results.
County
(Click to Schedule)
Address
Hours of Operation
Franklin
Franklin County Health Department
6955 Hwy 145 South,
Carnesville, GA 30521
M, W, TH
8:30AM - 4:30PM
Forsyth
Central Park Recreation Complex
2300 Keith Bridge Rd.,
Cumming, GA 30040
M-F
8:30AM - 4:30PM
Habersham County

Registration is completed at the testing location.
Habersham Medical Center
541 Historic Hwy 441 N.
Demorest, GA 30535
T, TH, Sat.
9:00AM -3:00PM


Hall
Sherwood Plaza
601 S Enota Dr NE
Gainesville, GA 30501
M-F
8:30AM - 4:30PM
Hall
Northeast Georgia Hospital - Braselton
1515 River Place,
Braselton, GA 30517
M - F
9:00AM - 4:00PM
Lumpkin
Lumpkin County Health Department
60 Mechanicsville Rd.,
Dahlonega, GA 30533
M,W,TH
8:30AM - 4:30PM
Rabun
Community Market
201 West Savannah Street
Clayton, GA 30525

Tues and Fri
8:30AM - 4:30PM
Stephens County

Registration is completed at the testing location.
Stephens County Hospital
163 Hospital Road
Toccoa, GA 30577
Opens 1/14/22
M, W, F
9:00AM - 3:00PM


Union
Union County General Hospital
35 Hospital Road,
Blairsville, GA 30512

M - F
8:30AM - 4:30PM
TO SCHEDULE YOUR COVID-19 VACCINE APPOINTMENT
CALL 888-457-0186 or
Your Local Health Department
CLICK HERE TO SCHEDULE ONLINE
Oral Antiviral COVID-19 Treatments
Georgia Public Health Departments are not administering antiviral COVID-19 treatments.
Contact your medical provider for more information about obtaining a prescription to take to a pharmacy.
DPH has partnered with Walmart, Walgreens, and Good Neighbor Pharmacy Group (a group of small independent pharmacies) to ensure coverage across the state. Pharmacies currently allocated treatments can be found on the DPH website at https://dph.georgia.gov/dph-covid-19-guidance.
Need a COVID-19 vaccination record?
If you received your vaccine at one of our county mass vaccination sites:
Please email vaccinehelpga@sharecare.com
You must include the following information:
First Name, Last Name
DOB
Address
Email used to register for an appointment
Date of vaccination
Mass vaccination location
If you received your vaccine at one of our health departments:
Contact the health department directly for a vaccination record.
See below for health department hours and phone numbers.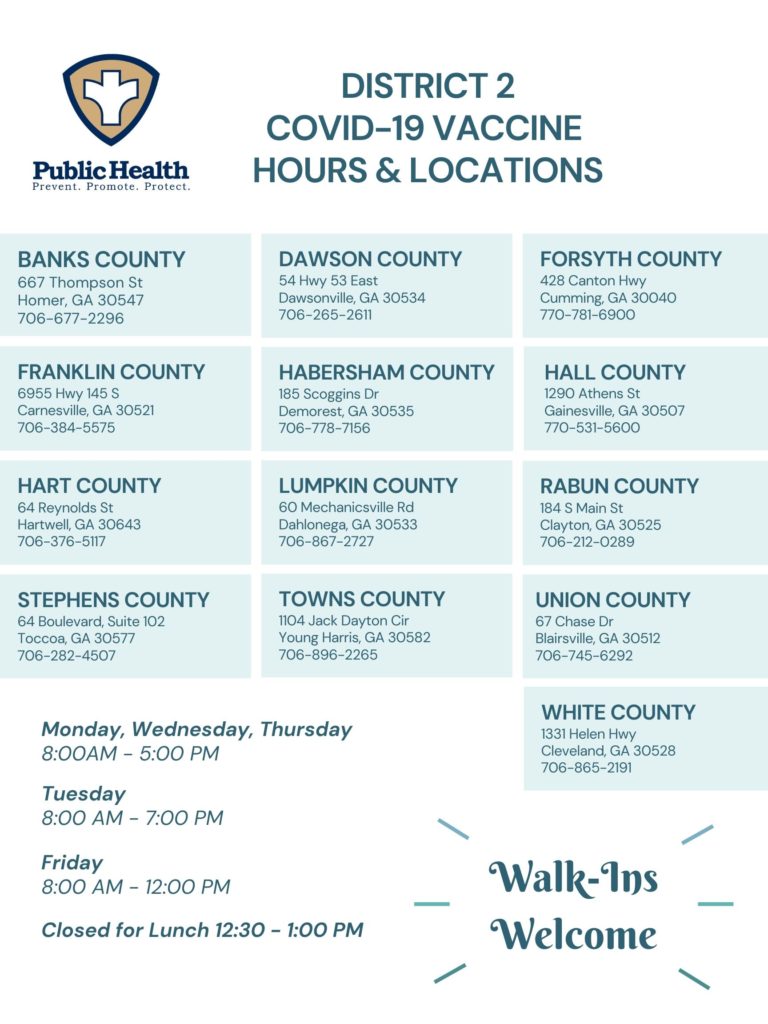 Coronavirus Disease 2019 (COVID-19) Resources
COVID-19 Hotline: (844) 442-2681
COVID-19 Vaccine Hotline: (888) 357-0169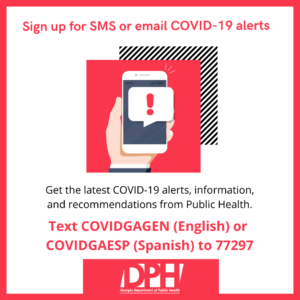 Archives